Our Solution
We provide transportation authorities with the information they need to effectively and efficiently manage daily operations. Deployed as a Transit Management as a Service (TMaaS) platform, it provides operators with access to real-time transportation data, helping them improve on-time performance, simplify scheduling and dispatching and facilitate access to on-vehicle systems.
Integrating a suite of user tools, NextBus allows operators to visualize the vehicle ID, assigned route, direction of travel, current service and location, current speed of travel, number of passengers, engine telemetry, covert alarm status, headway status, and schedule adherence status for each vehicle in service.
NextBus offers powerful reporting features, allowing operators to run dozens of standardized and customized reports for schedule adherence, headway, and job/block.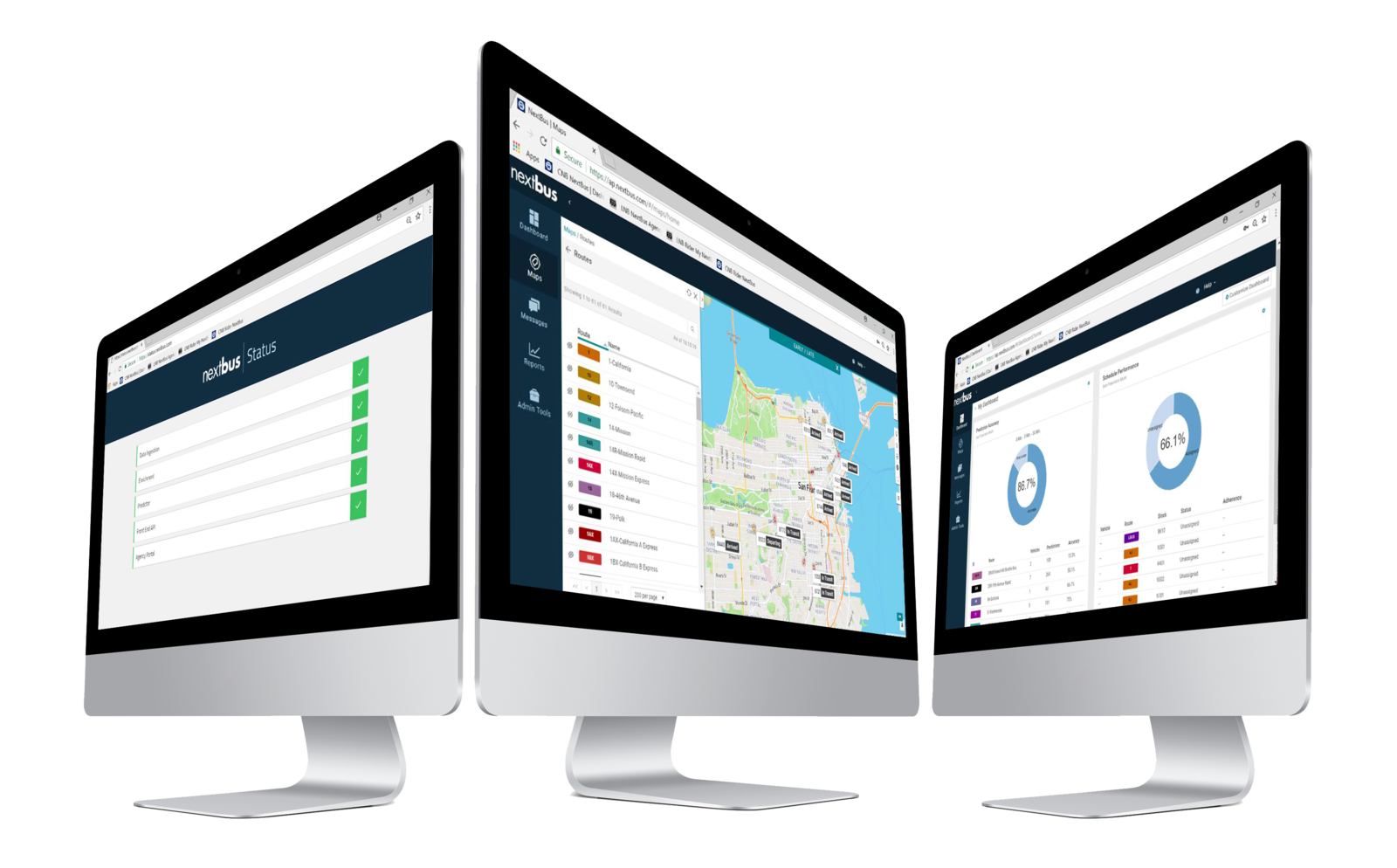 Cubic NextBus Suite includes:
Real-Time Passenger Information (RTPI) 
Our RTPI provides convenient access to trip planning, real-time arrival predictions and departure updates with machine learning, service alerts and notifications, and number of seats available.
NextBus Operations
Our backend content management platform for operators includes an intuitive web-based portal that facilitates planning, scheduling and operations with dynamic maps, real-time and historical data, dashboards with widgets, and a dedicated driver application. 
Mobile App and Web
The mobile app offers transit riders a host of features, including walking directions to the nearest stop route and stop options. Available via:
Android - Download the app from the Google Play store.
iOS - Download the app from the Apple App store.
Mobile web - Using your location-enabled setting on your mobile, your nearest stop will be located. 
Desktop - Select your transit agency from the main menu, followed by the route, stop, and direction.
Voice - Call the phone number listed at the bottom of the agency page and follow the instructions when prompted.
Text/SMS - If you know your agency and stop number, text 41411 and enter the information when prompted.
Displays
Every agency has different display needs. That's why we develop a customized signage solution at each location that incorporates full-color, dynamic LCD signage and features high-quality, real-time arrival information.
Electronic signage and displays (LED, LCD/TFT, E-ink), including push-to-talk buttons at bus stops
Sign and display management
Live and replay maps
San Francisco Municipal Transportation Agency 
The San Francisco Municipal Transportation Agency (SFMTA) is one of America's oldest public transit agencies, the largest in the Bay Area and seventh largest system in the United States. It currently carries more than 200 million riders annually. 
TransLink, Queensland, Australia
NextBus's first international project rollout included delivery of the NextBus solution to TransLink in Brisbane, Australia, which oversees 19 separate transit service operators.
Jacksonville Transportation Authority 
NextBus partnered with Jacksonville Transportation Authority (JTA) to bring real-time passenger information to northern Florida. Following an initial pilot in 2013, the full system implementation encompassed 170 buses across 46 routes. After a quick installation, the system went live in late 2014. 
NextBus Operations highlights:
Simplifies the management of multimodal agency operations with richly visualized, real-time maps and dynamic dashboards
Utilizes artificially intelligent machine learning to deliver superior predictions with high accuracy and precision
Works from any device using an agency web portal with real-time scheduling, dispatching, management, and reporting
Keeps vehicles on-route and on- schedule with a dedicated driver app that features turn-by-turn directions
Enables direct access to the data and alerts of onboard vehicle systems with Single Sign On (SSO) convenience
Supports an open ecosystem of certified partners, software, hardware, and services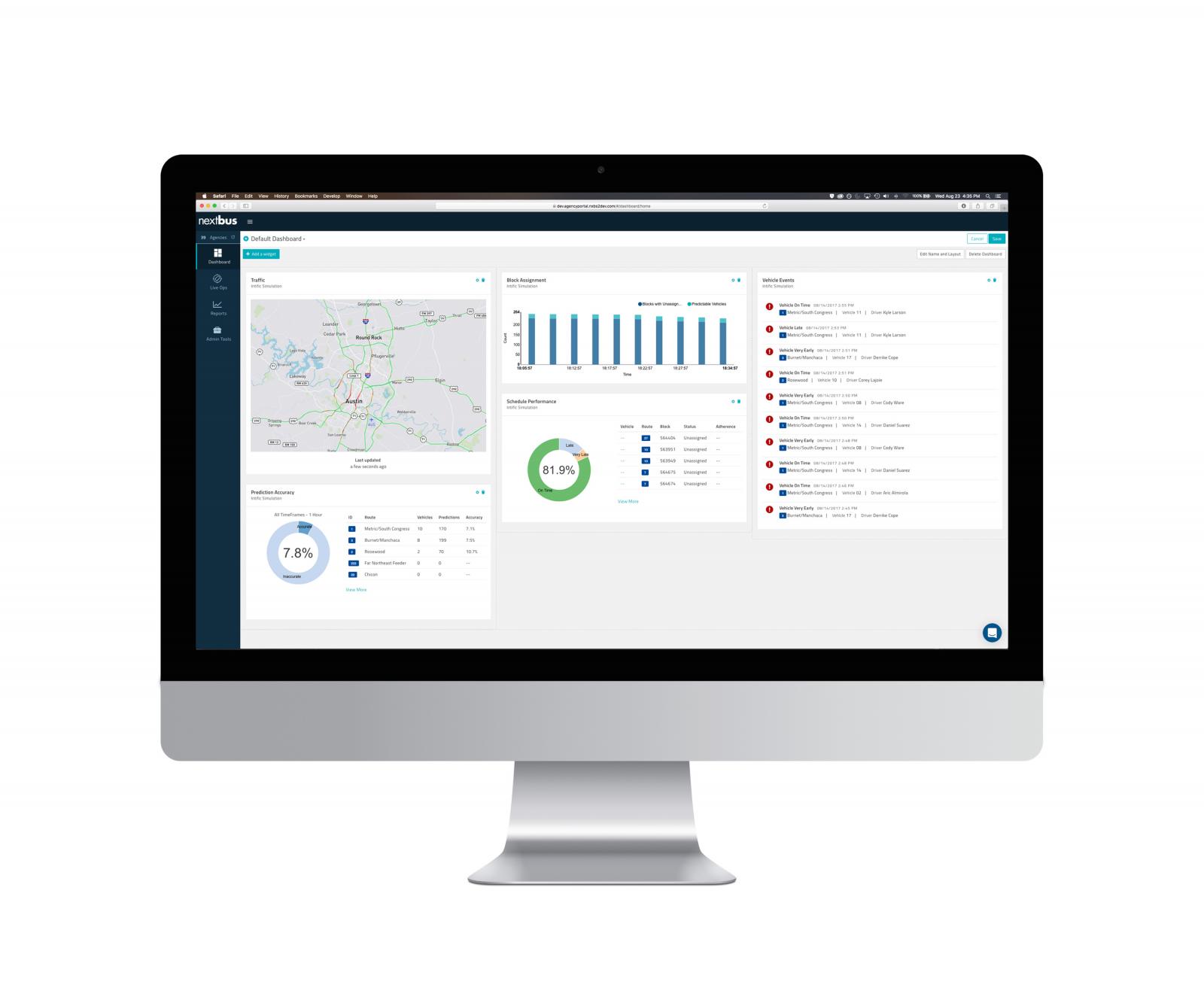 Frequently Asked Questions
For information about getting NextBus real-time arrival information for your transit system, please use our contact form. For rider feedback on using NextBus, send us an email at feedback@nextbus.com.

How do riders use NextBus?
Real-time arrival information from NextBus can be obtained from signs installed at transit stops, from desktops with access to the internet, and from mobile device browsers and apps.

How does it work?
NextBus uses Global Position Satellite (GPS) technology and advanced computer modeling to track buses and streetcars on their routes. Taking into account the actual position of the transit vehicles, their intended stops, and the typical traffic patterns, NextBus estimates the bus arrivals with a high degree of accuracy. This estimate is updated constantly as the vehicles are tracked.  

What are the benefits of the system?
The NextBus system puts the transit rider in control. Even when riders know what the schedule is, there are a number of reasons that vehicles may not arrive when expected. Traffic variations, breakdowns, and the day-to-day problems faced by any transit company can delay or completely interrupt service.
NextBus has a full suite of management tools that agencies can use to optimize their operations. These tools include live maps, replay maps, and customizable schedule adherence, headway, and job/block reports.  

How long does installing NextBus take?
The length of time to "go live" with NextBus varies depending on the number of vehicles and routes in the transit system, as well as the various options to be installed (NextBus platform, Sign and Display Management, automatic passenger counters, etc.). Generally, from the notice to proceed, most NextBus installations take three to six months to complete.