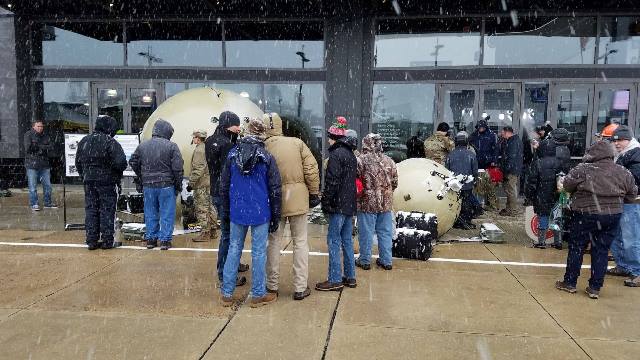 Guest Blogger: Chris Villarreal, Corporate Communications Associate
College football's most prestigious rivalry was on display earlier this month at Lincoln Financial Field in the City of Brotherly Love. This year's 188th edition of the Army vs. Navy game was a low-scoring, yet competitive matchup. The spectacle has always been a treat to watch for Navy and Army fans alike, but with the snowy weather, it quickly became a game to remember. Army managed to escape with a victory after the Mids' kick missed right on a last second field goal attempt. It's the first time since 1996 that Army has taken the Commander-In-Chiefs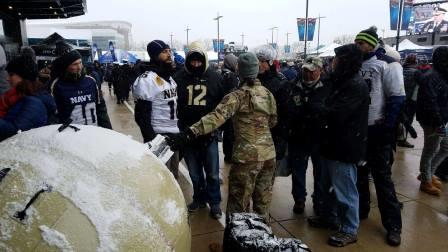 trophy!
Something else was also on display that Saturday afternoon — our GATR antenna. A steady stream of fans visited what looked to them to be a "big inflatable ball." Reactions ranged from curiosity and confusion to amazement and awe. The crowd easily understood the concept of the satellite system once it was explained and their expressions included, "simply amazing" to "how did someone come up with this idea?"
Two of our Cubic team members, in partnership with our customer, the U.S. Army's Program Executive Office Command Control Communications Tactical (P3O C3T)/ Product Manager Satellite Communications (PdM SATCOM), worked as a team to provide insight on the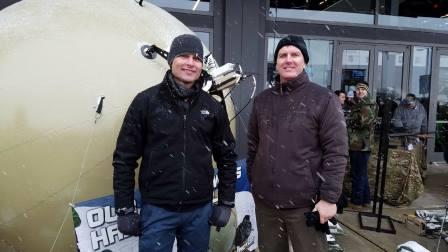 technology. With all of the other pre-game festivities taking place, our team members noted it was intriguing to see how many people wanted to learn and understand the concept of the GATR antenna.
At the end of the day, no matter what team spectators were rooting for, our GATR display was a place for both sides to come together and learn more about an innovative technology, built to improve and bridge the gap of communication.