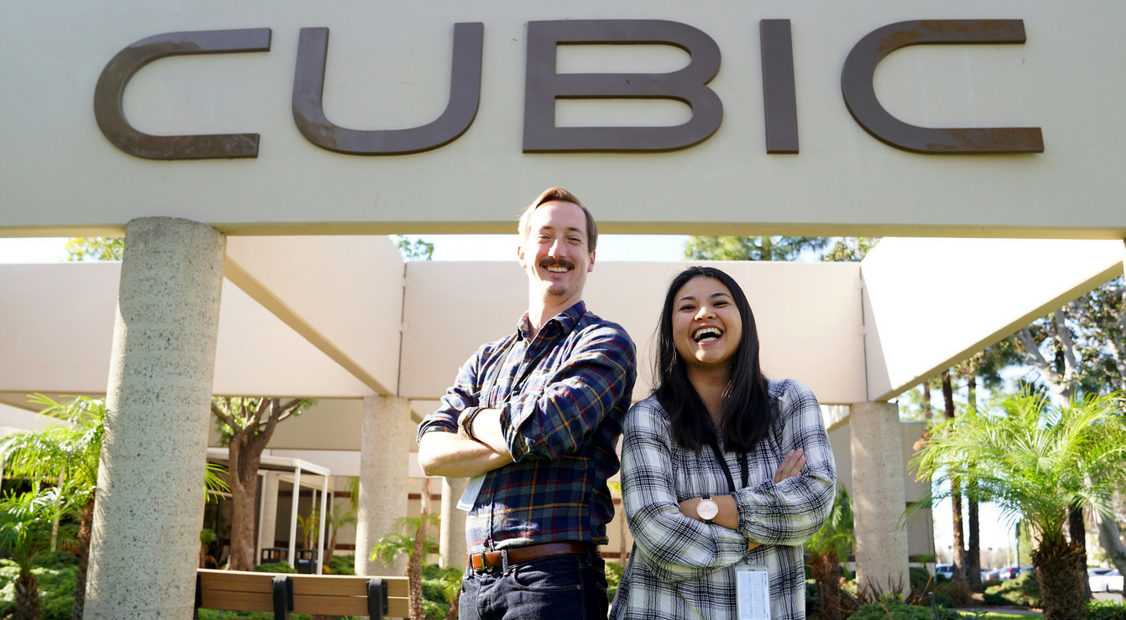 Guest Blogger: Chris Villarreal, Corporate Communications Associate
How do I know what career path is right for me? What should I be doing to prepare for my career? These may be some of the questions you're asking yourself.
Finding a job you truly take pride in doesn't come easy. Young professionals in the workforce experience many challenges and failures as they embark on their careers. Don't worry; you're not alone. Many of your fellow peers will experience the same obstacles. 
Meet Sammy and Holton, two of our next-gen Cubes who share some valuable insight to help you get on the right track.
Sammy Parker- Organizational Change Management Specialist

Q: Can you tell us about your background and experience?
A: I graduated from San Diego State with a B.A. in Communications and started my career in the staffing industry as a recruiter. From there, I transitioned into employee relations before joining the corporate world at Cisco, working in project management and organizational development.  While working at Cisco, I completed my Masters of Science in Organizational Development at the University of San Francisco.
Q: What's a typical work day for you at Cubic?
A: Every day is different. Some days I'll only work on communications and other days I'll partner different parts of the business on change initiatives that are taking place. It really just depends what's going on and what the priorities are for my team. 
Q: What are some of the obstacles and challenges you've face in your career?
A: I think one of the biggest obstacles was my official title entering the workforce. A lot of companies didn't like that I came from a staffing agency. This made it difficult for me to find job opportunities. Once I had a chance to demonstrate my skill set, I was able to prove myself and transition into a more challenging role. A good leader won't care what your title is as long as you can showcase the value of your experience in the interview.
Q: For those interested in going into change management, what are the three biggest pieces of advice you can give them?
 Get out of your comfort zone and get experience doing informational interviews with recruiters and people in your industry. Building those relationships can help you in the long run because they may not have jobs for you now, but in the future they may reach out if an opportunity arises. 

Networking is very important early on. Put yourself out there as much as you can by utilizing LinkedIn, attending networking events and constantly updating your resume experience.

You're going to be interacting with people at all levels, so it's important to have good social skills.
Holton Schmitt-Operations Intern, Corporate Change Management
Q: Can you tell us about your background and experience?
A: I completed my Bachelor of Science in Health Psychology and continued my education, obtaining a Masters of Science in Consulting Psychology. I'm currently completing a PhD program in Consulting Psychology with a research focus on occupational stress and burnout. Before interning at Cubic, I worked as a freelance consultant, working on training, development and selection projects. Prior to that, I was an intern for the City of San Diego, working as an Organizational Effectiveness Specialist.
Q: What's a typical work day for you at Cubic?
A: A day in the life varies, depending on the day. I'm involved in the training aspect of the project I am working on, which means I do a lot of tracking, managing logistics and utilizing the cornerstone learning management system. There's a very large skill base I have to be able to use at any given time. Sometimes it's updating training materials other times it's identifying and delivering what training people need. It really depends on what is most important for my team to focus on at the time.
Q: What are some of the key skills you need day-to-day to do your job?
A: Communication and social skills are very important to build strong working relationships and communicate effectively with groups and individuals. Also, being flexible and open to new experiences is important. Sometimes I might be very involved with training logistics. Other times, I may need to learn HTML to create communications. I need to be able to wear different hats to get things done.
Q: How does your internship experience differ from your classroom experience?
A: My classroom experience revolved mostly around theory and research. Working at Cubic has allowed me to see how all the theories function outside academia and how they can be applied to make evidence based improvements. My experience at Cubic has showed me that just because I'm not in school doesn't mean I stop learning.  I try and make an effort to keep my mind open and look for opportunities to learn something new as much as possible.