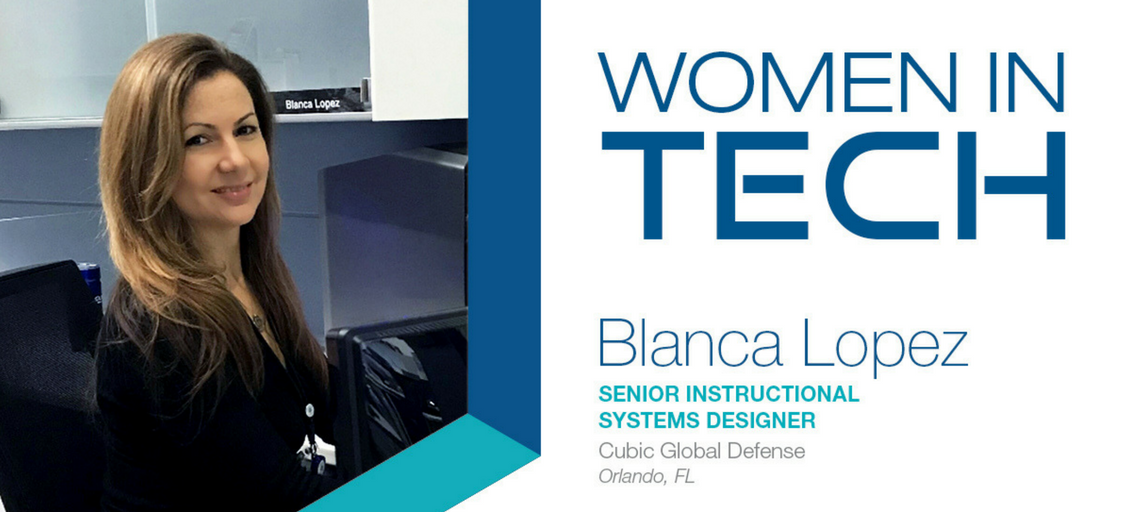 Women at Cubic are committed to changing the perception that is perpetuated by some of the current social norms of women in technology. By featuring female role models in technology, we hope to encourage more women to pursue careers in technology – no matter where they're at in their respective careers. 
In our new monthly blog series, our Corporate Communications team sits down with Cubes across the globe to learn more about what goes on behind the scenes in their Cubic location and department.
Here's our first column for our "Women in Technology" series, featuring Blanca Lopez from Cubic Global Defense. 
Adriana Hemzacek, Marketing Communications Specialist: Hi Blanca, thanks for taking the time to answer these questions and tell us more about being a woman in the tech field.
Blanca Lopez: It's my pleasure. I'm Senior Instructional Systems Designer out of Orlando. This is my second tour with Cubic – my first being in 2015 to design the training for the Engineering Plant Technician (or EPT). As of October 2017, my role entails ensuring we develop immersive lessons that are based on grounded principles, making sure the content is accurate to provide the best learning experience for the sailors in a virtual environment. I am currently working on the training material for the Littoral Combat Ship (or LCS) combat systems.
Adriana: Tell us how you got into this industry and line of work.
Blanca: Believe it or not, I actually received an undergrad in hospitality management. My master's degree is what brought me to today, which was a master's in instructional systems and technology.  As you can see, my training has included working with a mix of people and systems. After undergrad, I found myself developing a lot of training materials for audience staff in software simulations. I had a fantastic professor that recommended the Masters program based on my interests in training materials for corporate. And the rest is history.
Adriana: We all have that superhero that we can look up to. Who was that for you?  
Blanca:  I've been lucky enough to have a couple great undergrad mentors – Dr. Parsa an assistant dean at University of Central Florida, being one of them.  He advised me to go back to school for a master's in technology. He was very influential and now working at the University of Denver. 
Adriana: Here's an easy question for you. What's the best part of your job?   
Blanca:  Agreed, Adriana. That is an easy one. The best PARTS of my job are 1) working with great people 2) having the ability to be creative 3) fantastic leadership and 4) all those combined makes for an exceptional working environment.  
Adriana: So glad to hear that you have multiple reasons why you love your job. Why do you enjoy being a Cube?    
Blanca:  Each and every day, we are breaking ground on something new. The work here is by no means mundane – it's the opposite. The work is not your typical systems design, which keeps it fresh. I enjoy working in an innovative and open environment. Most of all, I appreciate working with a talented, supportinve, and creative manager, Louis Valsaint.
Adriana: What piece of advice would you give to young women who are studying a technological field or considering entering into a similar industry?
Blanca: There are many opportunities for women in technology. Don't be intimidated about being the only woman in the room. Technology can improve lives, so why not be a part of that!?! 
That's a wrap!
We hope you enjoyed hearing from Blanca Lopez, one of our senior instructional systems designers.  Stay tuned next month for more "Women in Technology."  Join the conversation on twitter at #WomenInTechnology.