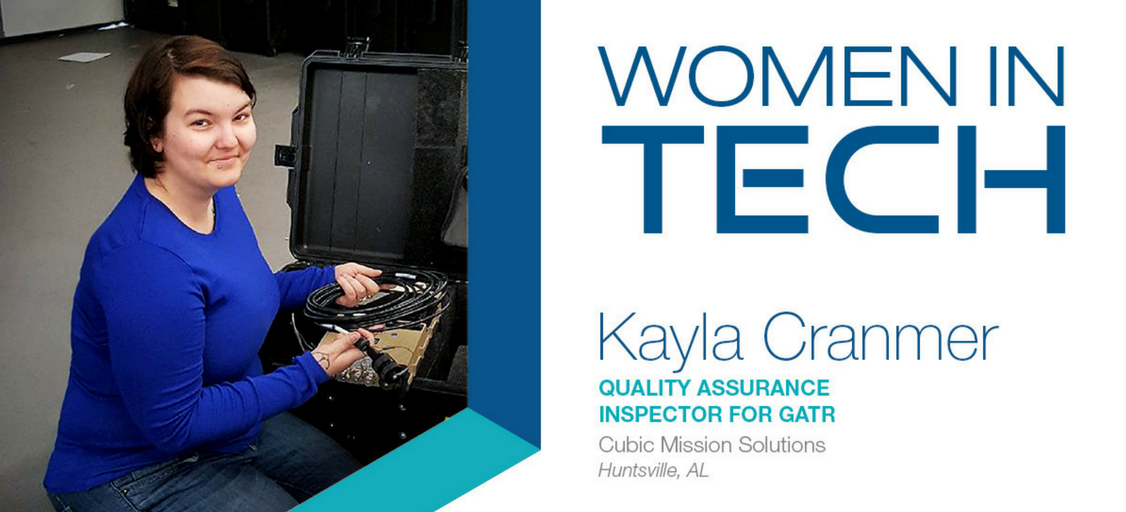 Making sure our products are top notch and ready for customers is a priority at Cubic. This month, we sat down with one of our quality specialists, Kayla Cranmer, to hear how her role impacts each and every product we ship out the door.
Adriana Hemzacek, Marketing Communications Specialist: Hi Kayla. Thanks for taking the time to answer these questions and tell us more about being a woman in the tech field.
Kayla Cranmer: I've been with Cubic Mission Solutions for eight months – yet hope to stay for many more years. I'm responsible for the final quality inspection on GATR satellite antennas before they are sent out to soldiers in the field. I also inspect incoming items to ensure we are only using the best quality of parts to build our systems.
Adriana: Here's an easy question for you. What's the best part of your job?   
Kayla: The best part of my job is knowing that our GATR ball is being used to help soldiers and people all over the world during their missions. Knowing the product meets the customer's needs is thoroughly pleasing.
Adriana: So glad to hear that you have multiple reasons why you love your job. Why do you enjoy being a Cube?    
Kayla: My favorite part of being a Cube is making the world better through innovation and technology. Even though we are a global company, my home office in Huntsville, Alabama serves as a small community within the larger Cubic family.
Adriana: We all have that superhero that we can look up to. Who was that for you?  
Kayla: I have a few role models; one is my father who taught me my (strong) work ethic and to not give up; the other is my sister who joined the Air Force and proved herself despite all odds.
Adriana: What piece of advice would you give to young women who are studying a technological field or considering entering into a similar industry?
Kayla: Don't give up. Keep studying this field; if this is something you enjoy, something you have passion for, don't give up. There is always something great to learn in this field. It's ever changing and growing - and that's why I'm so glad I stuck with it.
That's a wrap! We hope you enjoyed hearing from Kayla Cranmer, one of our quality assurance inspectors for our GATR antenna systems.  

Stay tuned next month for more "Women In Technology," and join the conversation on twitter at #WomenInTechnology.