Record total backlog of $3.64 billion
Sales increased 2% to $340.7 million
Adjusted EBITDA(1) of $17.0 million versus $20.1 million prior year, primarily driven by an increase in research and development expense of $3.0 million
Operating loss of $7.0 million versus $4.1 million prior year
Net loss of $9.8 million or $0.36 per share; includes costs of strategic and IT system resource planning of $8.1 million and acquisition-related costs of $1.4 million
Key opportunities won in Q1:

Transportation: New York Metropolitan Transportation Authority (MTA) New Fare Payment System($554 million), Massachusetts Bay Transportation Authority (MBTA) next-generation fare payment system ($575 million)
Mission Solutions: Air Force Datalink Enterprise ID/IQ ($497 million ceiling)
Defense Training: Joint Readiness Training Center re-compete ($325 million), OASIS-EUCOM Training & Exercises re-compete ($42 million), Training Support Systems Enterprise Mission Support Services II ID/IQ ($150 million ceiling)

 Confirms full year fiscal 2018 sales and adjusted EBITDA guidance
SAN DIEGO – February 06, 2018 – Cubic Corporation (NYSE: CUB) today announced its financial results for the first fiscal quarter ended December 31, 2017.
"We are pleased by the strong momentum in our business. The New York MTA and Boston MBTA wins, coupled with T2C2 full rate production, solidifies our path to Goal 2020," said Bradley H. Feldmann, president and chief executive officer. "I am very proud of our team's accomplishments as they drive value for our customers, shareholders and employees."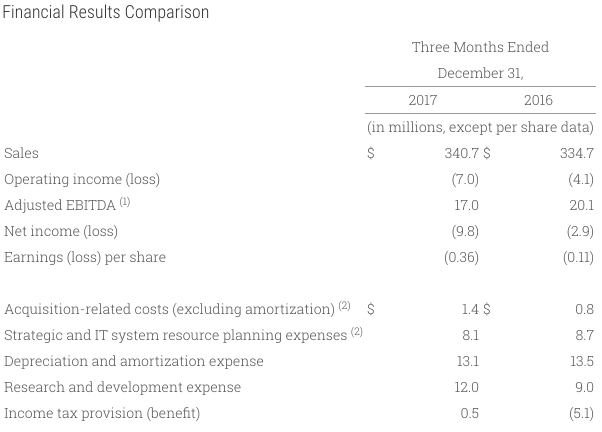 Sales increased 2% to $340.7 million in the first quarter. Growth in Transportation and Defense Services were primarily offset by lower sales in Defense Systems. Foreign currency translation had a favorable impact of $4.8 million.
Operating loss was $7.0 million compared to $4.1 million in the first quarter of last year, driven by an increase in research and development expense of $3.0 million. Foreign currency translation had a favorable impact of $0.5 million.
Non-GAAP adjusted EBITDA was $17.0 million compared to $20.1 million in the first quarter of last year. The decrease was primarily attributable to the same matters noted above. Foreign currency translation had a favorable impact of $0.6 million.
Net loss was $9.8 million, or 36 cents per share, compared to $2.9 million, or 11 cents per share last year. The most significant item contributing to the decrease in earnings per share was a change in the Company's tax provision.  In the first quarter of 2017, the annual effective tax rate was computed using a worldwide blended methodology, resulting in a tax benefit of $5.1 million against a pre-tax loss of $7.9 million. In the first quarter of 2018, discrete domestic and foreign annual effective rates were computed to arrive at a total projected rate for the year, resulting in a tax expense of $0.5 million on a pre-tax loss of $9.3 million. The difference in methodology only impacts the timing of the tax provision within the fiscal year.
Cash from operations was negative $26.9 million, in which it was negatively impacted by the timing of collections in the Middle East, higher unbilled accounts receivable in Defense Services, timing of the mobilization payment for New York and an increase in inventory at Transportation Systems for upcoming scheduled deliveries.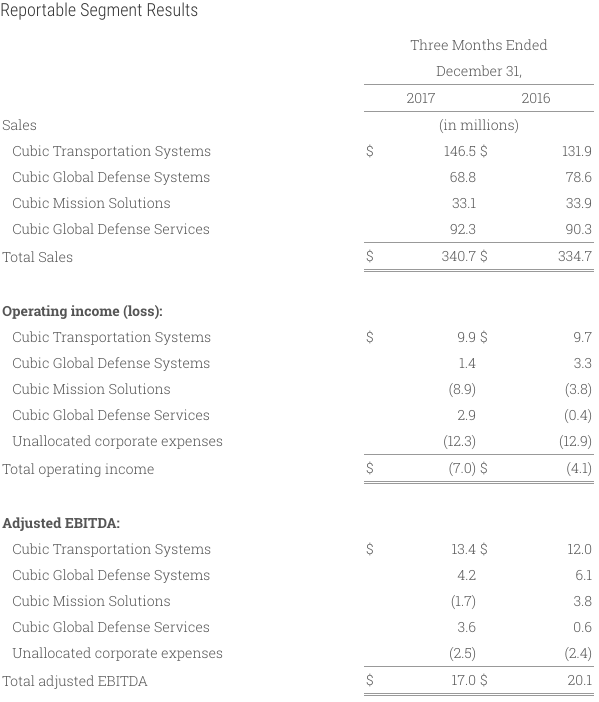 Cubic Transportation Systems (CTS):
CTS sales increased 11% to $146.5 million compared to $131.9 million last year. The increase in sales was primarily driven by system development on the New York New Fare Payment System contract, partially offset by slightly lower sales in Sydney and London.  Foreign currency translation had a favorable impact of $4.6 million.
CTS adjusted EBITDA increased 11% to $13.4 million compared to $12.0 million last year. Foreign currency translation had a favorable impact of $0.7 million.
Cubic Global Defense Systems (CGD Systems):
CGD Systems sales were $68.8 million compared to $78.6 million last year. The decrease was primarily due to lower sales of air combat training systems which were impacted by the timing of shipments.
CGD Systems adjusted EBITDA was $4.2 million compared to $6.1 million last year. The decrease was driven by increased research and development expense of $2.3 million related to innovative training technologies.
Cubic Mission Solutions (CMS):
CMS sales were $33.1 million compared to $33.9 million last year. Sales of expeditionary satellite communication products decreased compared to the prior year due to timing, partially offset by increased sales of wideband communications and tactical networking products.
CMS adjusted EBITDA was negative $1.7 million compared to positive $3.8 million last year.  The decrease reflects increased research and development expense related to next-generation protected communications solutions and a change in mix due to the timing of higher-margin product shipments.
Cubic Global Defense Services (CGD Services):
CGD Services sales increased 2% to $92.3 million compared to $90.3 million last year, primarily due to additional training rotations for the U.S. Army's Joint Readiness Training Center.
CGD Services adjusted EBITDA increased to $3.6 million compared to $0.6 million last year, driven by improved performance and business realignment efficiencies.
Fiscal 2018 Full Year Guidance
constant currency basis with 2017
Sales guidance: $1.51 billion to $1.56 billion
Adjusted EBITDA: $110 million to $135 million
Conference Call and Webcast
Cubic management will host a conference call to discuss the company's first quarter fiscal 2018 results today, Tuesday, February 6 at 4:30 p.m. EST/1:30 p.m. PST.
Live webcast: https://event.webcasts.com/starthere.jsp?ei=1177472&tp_key=a4e027b0c3
An archive of the webcast will be made available in the News and Events section of Cubic's Investor Relations page at https://www.cubic.com/Investor-Relations/News-and-Events.
Please allow at least 15 minutes prior to the call in order to register, download and install any streaming media software needed to listen to the webcast.
Dial-In Information
Financial analysts and institutional investors are invited to dial:
877-407-9708
201-689-8259 (international)
To avoid a delay in start time, please dial in beginning 4:20 p.m. EST/1:20 p.m. PST.
About Cubic Corporation
Cubic is a market-leading, technology provider of integrated solutions that increase situational understanding for transportation, defense C4ISR and training customers worldwide to decrease urban congestion and improve the militaries' effectiveness and operational readiness. Cubic Transportation Systems is a leading integrator of payment and information technology and services to create intelligent travel solutions for transportation authorities and operators. Cubic Mission Solutions provides networked Command, Control, Communications, Computers, Intelligence, Surveillance and Reconnaissance (C4ISR) capabilities for defense, intelligence, security and commercial missions. Cubic Global Defense is a leading provider of live, virtual, constructive and game-based training solutions, special operations and intelligence for the U.S. and allied forces. For more information about Cubic, please visit the company's website at www.cubic.com or on Twitter @CubicCorp.
Forward-Looking Statements
This press release contains forward-looking statements within the meaning of the Private Securities Litigation Reform Act of 1995 that are subject to the safe harbor created by such Act. Forward-looking statements include, among others, statements about our expectations regarding future events or our future financial and/or operating performance; our expectations regarding organic growth; and the use of our technologies on a transportation contract that was awarded early fiscal 2018. These statements are often, but not always, made through the use of words or phrases such as "may," "will," "anticipate," "estimate," "plan," "project," "continuing," "ongoing," "expect," "believe," "intend," "predict," "potential," "opportunity" and similar words or phrases or the negatives of these words or phrases. These statements involve risks, estimates, assumptions and uncertainties that could cause actual results to differ materially from those expressed in these statements, including, among others: our dependence on U.S. and foreign government contracts; delays in approving U.S. and foreign government budgets and cuts in U.S. and foreign government defense expenditures; the ability of certain government agencies to unilaterally terminate or modify our contracts with them; the effect of sequestration on our contracts; our assumptions concerning behavior by public transit authorities; our ability to successfully integrate new companies into our business and to properly assess the effects of such integration on our financial condition; the U.S. government's increased emphasis on awarding contracts to small businesses, and our ability to retain existing contracts or win new contracts under competitive bidding processes; negative audits by the U.S. government; the effects of politics and economic conditions on negotiations and business dealings in the various countries in which we do business or intend to do business; risks associated with the restatement of our prior consolidated financial statements, including our identification of material weaknesses in our internal control over financial reporting; competition and technology changes in the defense and transportation industries; the change in the way transit agencies pay for transit systems; our ability to accurately estimate the time and resources necessary to satisfy obligations under our contracts; the effect of adverse regulatory changes on our ability to sell products and services; our ability to identify, attract and retain qualified employees; our failure to properly implement our ERP system; unforeseen problems with the implementation and maintenance of our information systems; business disruptions due to cyber security threats, physical threats, terrorist acts, acts of nature and public health crises; our involvement in litigation, including litigation related to patents, proprietary rights and employee misconduct; our reliance on subcontractors and on a limited number of third parties to manufacture and supply our products; our ability to comply with our development contracts and to successfully develop, introduce and sell new products, systems and services in current and future markets; defects in, or a lack of adequate coverage by insurance or indemnity for, our products and systems; and changes in U.S. and foreign tax laws, exchange rates or our economic assumptions regarding our pension plans. In addition, please refer to the risk factors contained in our SEC filings available at www.sec.gov, including our most recent Annual Report on Form 10‑K and Quarterly Reports on Form 10‑Q. Because the risks, estimates, assumptions and uncertainties referred to above could cause actual results or outcomes to differ materially from those expressed in any forward-looking statements, you should not place undue reliance on any forward-looking statements. Any forward-looking statement speaks only as of the date hereof, and, except as required by law, we undertake no obligation to update any forward-looking statement to reflect events or circumstances after the date hereof.
Use of Non-GAAP Financial Information
We believe that the presentation of Earnings before interest, taxes, depreciation, and amortization (EBITDA) and Adjusted EBITDA included in this report provides useful information to investors with which to analyze our operating trends and performance and ability to service and incur debt. Also, we believe EBITDA facilitates company-to-company operating performance comparisons by backing out potential differences caused by variations in capital structures (affecting net interest expense), taxation, variations in organic vs. inorganic growth (affecting amortization expense) and the age and book depreciation of property, plant and equipment (affecting relative depreciation expense). We believe Adjusted EBITDA further facilitates company-to-company operating comparisons by backing out items that we believe are not part of our core operating performance. Items backed out of Adjusted EBITDA are comprised of expenses incurred in the development of our ERP system and the redesign of our supply chain which include internal labor costs and external costs of materials and services that do not qualify for capitalization, business acquisition expenses including retention bonus expenses, due diligence and consulting costs incurred in connection with the acquisitions, expenses recognized related to the change in the fair value of contingent consideration for acquisitions, restructuring costs, gains and losses on disposals of fixed assets, and income and expenses classified as other non-operating income and expenses which may vary for different companies for reasons unrelated to operating performance.
EBITDA and Adjusted EBITDA are not measurements of financial performance under GAAP and should not be considered as measures of discretionary cash available to the company or as alternatives to net income as a measure of performance. In addition, other companies may define EBITDA and Adjusted EBITDA differently and, as a result, our measures of EBITDA and Adjusted EBITDA may not be directly comparable to EBITDA and Adjusted EBITDA of other companies. Furthermore, EBITDA and Adjusted EBITDA have limitations as analytical tools, and you should not consider either of them in isolation, or as a substitute for analysis of our results as reported under GAAP.
The following table reconciles EBITDA and Adjusted EBITDA to net income (loss), which we consider to be the most directly comparable GAAP financial measure.