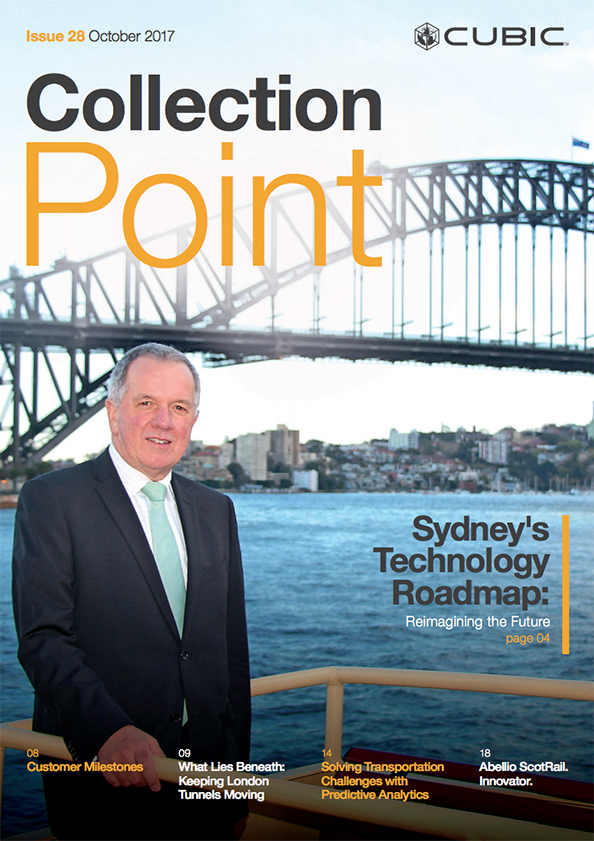 Collection Point is a customer publication produced by Cubic Transportation Systems, a leading integrator of payment and information technology and services for intelligent travel solutions. Cubic delivers integrated systems for transportation and traffic management, delivering tools for travelers to choose the smartest and easiest way to travel and pay for their journeys, and enabling transportation authorities and agencies to manage demand across the entire transportation network – all in real-time.
Cubic specializes in design, development, manufacture, supply, installation, integration, services and information. Services provided by Cubic include business support, financial services, IT operation services, asset management services and professional services. 
Sydney's Technology Roadmap: Reimagining the Future
In Sydney, Australia's largest city, an innovative Future Transport Technology Roadmap is now being rolled out by Transport for New South Wales (TfNSW), which promises to deliver major benefitts to commuters by more rapidly embracing emerging technologies. Tony Braxton-Smith, TfNSW Deputy Secretary, Customer Services, who has been given responsibility for orchestrating delivery on the vision behind the roadmap, explains what it's all about.
Vancouver, Chicago and London leading the way in transit payment technologies.
What Lies Beneath: Keeping London Tunnels Moving
It's been a little over a year since Cubic was awarded the Tunnel Outstation Maintenance Services (TOMS) contract from Transport for London (TfL), for the maintenance of critical Intelligent Transportation Systems (ITS) infrastructure within TfL's network of road tunnels and corridors. Today, we're taking a look at how latest technological innovations from Cubic are helping to keep London moving, above and below the ground.
Transit Management as a Service: NextBus' Transit Management Platform
Mobile technologies, big data, cloud computing and the Internet of Things (IoT) are transforming the world of transit management in a unique way. Now, a new trend – one that brings real-time passenger information, vehicle arrival predictions, and fleet and revenue management technologies together to enable the next-generation of transit environments – is starting to emerge.
A New Model for Airline and Rail Ticketing
If you've traveled recently, you know that extreme weather patterns and other ticketing issues have significantly degraded the airline experience. Despite decades of investment in IT modernization, airline travel plans can easily break down with cascading effects: across airlines, airports, even entire countries. Adding more agents is costly and often isn't feasible due to the many unpredictable, fast-breaking factors that can impact travel. Is there a better, faster and more cost-effective way to reschedule passengers and get them on their way?
Gazing into the Crystal Ball: Solving Transportation Challenges with Predictive Analytics
In May 2017, Cubic Transportation Systems began piloting the use of predictive analytics for the maintenance, repair and operation of fare collection equipment for one of its customers. The successful implementation of predictive analytics promises to not only revolutionize Cubic's services strategy, but also reduce equipment downtime events for the customer, set a new standard for service maintenance across the public transportation industry and deliver a huge improvement to the travelers' experience.
Welcome to Atlanta: Home of MARTA, Host of the 2017 APTA Annual Meeting & Expo
Please give a round of applause to the Metropolitan Atlanta Rapid Transit Authority (MARTA), your host for this year's APTA Annual Meeting & Expo, October 8-11, in Atlanta.
One London: Cubic to Transform City's Cycle Hire Scheme
Cycling holds the greatest potential to transform a city's transportation network for the better. The more people are encouraged to cycle to their destination, the less the demand on the system. This is at the heart of Cubic's NextCity vision, and the opportunity to
bring cycling under an account-based system is key to harnessing greater capacity overheads.
Abellio ScotRail (ASR) is on the case. Working with Cubic, ASR is piloting one of the UK's first smart ticketing schemes for account-based travel. In fact, it will be Europe's first large-scale implementation of the technology for which ASR aims to have 60 percent of its customers using by 2019.
Cubic Global Operations Centre: One Year On
In our October 2016 edition, we reported on the opening of Cubic's Global Operations Centre (GOC) in Stockton-on-Tees, in the northeast of England. One year on, the GOC has become the central hub for support operations to multiple projects and is well on course to deliver Cubic's strategic goal of providing the best service and operational performance to our customers. And the best is yet to come.
Helping Transit Agencies Navigate the Mobile Jungle
Collection Point sat down with Sprogis to get an update on how Cubic is helping transit operators win at the mobile game and to find out more about Cubic's new mobile solution – the Mobile Suite – soon to launch with several customers across the U.S.
City Innovate Foundation (CIF) brings the private, public, and academic sectors together to solve pressing urban issues with a mix of innovation, data and strategic partnerships. Collection Point sat down with Kamran Saddique, the Foundation's co-founder, to find out how his organization works its magic and why partnerships are crucial in redefining the future of cities.