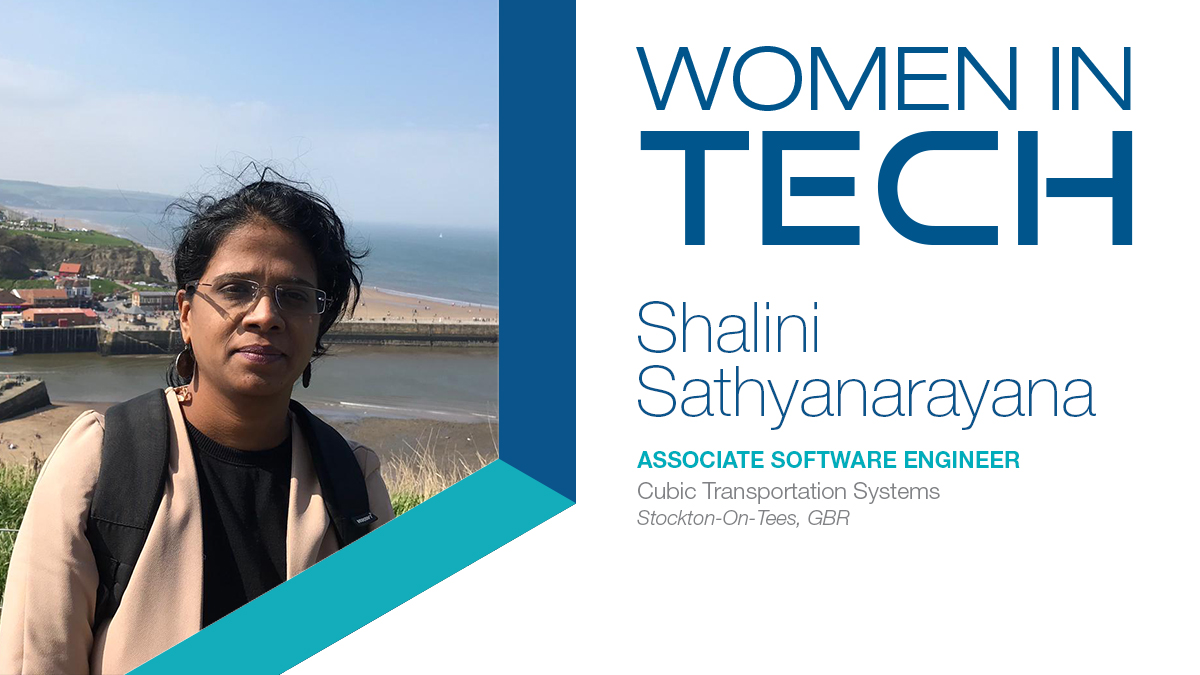 Across the globe, diversity at Cubic is apparent. We employ not only some of the best engineers worldwide, but some of the brightest women who hold engineering true to their heart. We took some time to get to know Cube, Shalini Sathyanarayana, of Cubic Transportation Systems, and hear about her role at our office in Stockton-on-Tees.
Adriana Hemzacek, Marketing Communications Specialist: Hi Shalini, thanks for taking the time to tell us more about being a Cube – and a woman in the tech field.
Shalini Sathyanarayana, Associate Software Engineer: I joined Cubic as an Associate Software Engineer in September 2017. I obtained both my Bachelors and Masters in Computer Science in 2015 with an emphasis in Java. Today, I practice what I studied by being a part of the Traffic Scotland team, where my role is a C++ developer.
Adriana: Tell us how you got into this industry and line of work.  
Shalini: My passion was always science and engineering, with a focus on computer engineering. I wanted to learn about cloud technologies, so I knew I had to become a good programmer and learn new software languages like JAVA and .NET. I eventually started working with Java in my final year of school for a graduate project and realized it was a good fit.
Adriana: We all have that superhero that we look up to. Who was that for you?  
Shalini: My mentor is one of my task managers, here at Cubic, Neil Taylor. Neil always helps me gain an understanding of the things involved in the Transport Scotland program from understanding the systems, especially the C++ language, which I had minimal understanding of upon starting. I have troubled him a lot, with dozens of questions, yet as a task manager, he has always encouraged me to continue trying and asking. That's what makes him such a good mentor.
Adriana: Here's an easy question for you. What's the best part of your job?   
Shalini: As a programmer, the best part of my job is the coding – I just love it!  Each day is a new day with a variety of things to tackle and learn - as a programmer and a professional.
Adriana: So glad to hear that you have multiple reasons why you love your job. Why do you enjoy being a Cube?    
Shalini: Cubic is one of the best organizations I've seen. When I joined after graduation, I was a bit nervous as there were so many on the team who were more senior to me, but everyone was extremely helpful.
Adriana: What piece of advice would you give to young women who are studying a technological field or considering entering into a similar industry?
Shalini: I believe more women should consider entering a technical field. You don't see many of us, even though there is great opportunity to make a significant contribution in transportation, a field which touches people in all walks of life.
That's a wrap! We hope you enjoyed learning more about Shalini. Join the conversation on Twitter at #WomenInTechnology.